Super Mario Brothers Merchandise

New Super Mario Brothers Wii Special Edition Gift Set
Get an Amazon Exclusive limited edition bundle complete with a New Super Mario Bros. Wii game, a set of four Wii Remote Static Clings, and a 100% cotton t-shirt (men's size large) packaged in a collectible plastic lunch box. Available while supplies last. Officially licensed by Nintendo. Note: The Wii Remote controllers pictured with the controller skins are not included in this bundle.
Developers at Nintendo have dreamed of creating a simultaneous multiplayer Super Mario Bros. game for decades. The Wii console finally makes that dream come true for everyone with New Super Mario Bros. Wii. Supporting 2-4 players in side-scrolling co-op and competitive platforming action, and featuring a mix of fan favorites and new characters, new powerups and various input options via the Wii Remote, it is destined to become an instant classic in one of the most beloved game franchises of all-time.

Super Mario Mini Figure Collection Series 1: Mario, Luigi, Yoshi, Paragoomba, Bullet Bill & Bobomb

Series 1 collection figure set of 6 includes: Mario, Luigi, Yoshi, Paragoomba, Bullet Bill, and Bob-omb. Each figure measures approximately 2" tall. The Bob-omb and Paragoomba measure approximately 1" tall. Each figure is highly detailed and will make as fine decorations on your desk or shelves! Recommended for ages 7+.

Super Mario Yahtzee
It's America's all-time #1 dice game with a Super Mario twist. Shake the dice in the custom "? Block" dice cup and watch the Super Mario icons fly. Will you roll a Large Straight with Coin, Red Mushroom, Fire Flower, Yoshi Egg and Star? Or will you roll five Green Shells? That's Yahtzee with a Super Mario twist. Game comes complete with a custom "? Block" dice cup, 5 custom dice, score pad, rules and pencil.
Created with you fans in mind, this Nintendo Super Mario Collector's Edition Yahtzee Game features 5 custom dice that are decorated with power-ups from the Super Mario video games: Coin, Fire Flower, Yoshi Egg, Star, Green Shell, and Mushroom! It also includes a collectible, travel-sized Super Mario dice cup. Order yours today!
A great gift idea for Mario fans. These plush and soft slippers feature the Yoshi in all his green goodness. One size fits all. The front is made of soft pillow like materia to keep your feet feeling great. These are licensed Nintendo imports so they may have some collectible value for old-school gamers. They also come in red.

New Super Mario Brothers Know Your Enemies Bandages
Forget your average Band-aid type plastic strip bandages. Super Mario Brothers comes to the rescue! This pack of officially licensed bandages contains 15 plastic strips featuring all your favourite Super Mario Brothers characters, including enemies. These strips aren't latex free and are not recommended for children under the age of 3. Gamers will love these.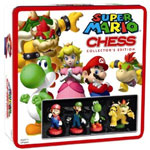 Super Mario Brothers Chess
The Super Mario Collector's Edition of Chess is the first and only chess set that features the most beloved and popular Super Mario characters in classic poses making this a must-have collectible for every Super Mario fan. Features 32 highly-detailed authentic chess pieces and a themed chess board. Everything comes packed in a collector's tin.
Available from Amazon