Super Mario Brothers Games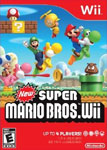 New Super Mario Bros Wii
Developers at Nintendo have dreamed of creating a simultaneous multiplayer Super Mario Bros. game for decades. The Wii console finally makes that dream come true for everyone with New Super Mario Bros. Wii. Supporting 2-4 players in side-scrolling co-op and competitive platforming action, and featuring a mix of fan favorites and new characters, new powerups and various input options via the Wii Remote, it is destined to become an instant classic in one of the most beloved game franchises of all-time.
Available from Amazon
New Super Mario Brothers DS
Twenty years after Nintendo's biggest franchise was born, the Mario Bros. return in a dazzling, all-new platformer sure to set players' fingers twitching. In New Super Mario Bros. for DS, fans from Mario's classic days will see their dreams answered in this return to the Mushroom Kingdom, while a new generation of Mario players will learn what true platforming greatness means. The game contains 80 levels of side-scrolling fun across 8 worlds and features multiplayer support both in wireless DS single-card download play and wireless DS multi-card play.
Available from Amazon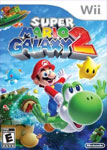 Super Mario Galaxy 2 (for Wii)
Super Mario Galaxy 2 is an action platformer for Wii that continues the space-based fun begun by the 2007 runaway hit Super Mario Galaxy. Featuring out-of-this-world platforming across a wide array of unique planets and space environments, players can go it alone as Mario or team up with his old buddy Yoshi as they platform and puzzle-solve to their hearts content. Additional key features include new and returning power-ups, special power-up abilities when teamed with Yoshi and the new drill mechanic that allows Mario burrow into and through planets.
Like its predecessor, Super Mario Galaxy 2 is an action platformer set in space. Platforming takes place between worlds, known as galaxies. Mario can move between smaller examples of these by jumping. He can also embark on longer jaunts via a small steerable planet in the shape of Mario's head, but as a new twist he can also move into and through planets as well using the new drill mechanism...
Available from Amazon

Or check out the original Super Mario Galaxy for Wii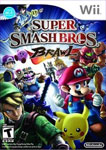 Super Smash Bros Brawl (for Wii)
The third installment in Nintendo's popular Super Smash Bros. fighter franchise debuts on the Wii in Super Smash Bros. Brawl. Loaded with all the characters and features players have loved from the two previous versions, plus much more, it is a worthy addition to the series and yet another must-have title for the Nintendo Wii.
Returning Veteran Fighters: Mario, Link, Kirby, Pikachu, Fox McCloud, Samus, Zelda/Sheik, Bowser, Donkey Kong, Yoshi, Princess Peach and Ice Climbers from the NES title Ice Climber.
Available from Amazon
Older Games

Super Mario Advance
by Nintendo
Platform: Game Boy Advance
Content suitable for persons age 6 or older.
Features:
· Side-scrolling adventure
· Play as Mario, Luigi, Peach, or Toad
· Collect items with which you can pummel your enemies
· Switch characters between levels
· Head-to-head play on up to 4 units via the separately sold communication cable

Super Mario All-Stars
by Nintendo
Platform: Super Nintendo
Super Mario All Stars is a collection of Mario's four greatest adventures in one awesome game pack. With improved graphics and sound for the Super NES, SMB1, SMB2, SMB3, and the Lost Levels, demonstrate the 16 bit excellence we've become accustomed to. Released as SMB2 in Japan, the Lost Levels' design and play control will remind you of SMB1 but the challenge is far beyond any previous SMB game. The game features multiple scrolling backgrounds, 52 levels of play and lots of enemies for Mario to crush.

Mario Kart Super Circuit
by Nintendo
Platform: Game Boy Advance
Content suitable for persons age 6 or older.
Features:
· Kart-racing game based on the Nintendo 64 hit
· 20 all-new tracks, plus additional hidden tracks and classic multiplayer battle mode
· Collect coins to increase your kart's speed and durability
· The courses are packed with traps, tricks, shortcuts, and speed-affecting elements
· For 1 to 4 players

Super Mario 64
by Nintendo
Platform: Nintendo 64
Content suitable for persons age 6 or older.

Editorial Review
The game that launched the Nintendo 64 system stands the test of time as one of the first and best exploratory action/adventure games. Guide the legendary plumber through an incredibly vast magical world with never-before-seen movement and camera-angle freedom. Mario's got the moves with graduated speeds of running and walking, jumps, super jumps, bounce attacks, swimming, and more. The more you play, the more moves you'll discover.
This industry milestone game lets gamers play at their own pace, encouraging them to explore new nooks and crannies of its many levels with a Zen-like approach where the journey is as important as the goal. Other N64 games such as Zelda, Banjo-Kazooie, and Donkey Kong 64 all owe much of their inspiration to this gem of a game. A showcase for the system's graphics and processing speed capabilities, Super Mario 64 is a must-have for any N64 owner. --Jeff Young

Super Mario Brothers Deluxe
by Nintendo
Platform: Game Boy Color
Content suitable for persons age 6 or older.

Editorial Review
One of the best things about the Game Boy Color is that it's basically an original Nintendo Entertainment System that can fit in your pocket. What this means for gamers is that many of the great games for the classic system are being ported to the Game Boy Color, giving us a chance to re-play (or in some cases discover) the best game titles from the '80s.
Nintendo's own Super Mario Bros. Deluxe is among the first of these conversions, and it certainly remains one of the best. Actually, calling this game a conversion really doesn't do it justice. This version actually contains more levels than the original game, including the entire Japanese version and a slew of extras (such as a two-player mode).
The controls in this game are easy to grasp--even for novice gamers. All Mario can do is jump (and shoot fireballs with the right power- ups), but it is amazing to see how much gameplay can be squeezed from these simple actions when the controls work in direct harmony with a player's thoughts. The only element of this game that could have been better is that the Game Boy Color's screen isn't quite large enough to show the entire layout of the original game screen, so players may occasionally need to press up and down on the control pad to see some offscreen action. While this can be distracting, it ultimately has minimal impact on gameplay. If you are looking for the quintessential side-scrolling platform game, you can't do much better than Super Mario Bros. Deluxe. --T. Byrl Baker

Super Mario Land 2
by Nintendo
Platform: Game Boy



- All reviews taken from Amazon.com